I can't believe my little girl has been around for 7 months already and I haven't done much crafting for her. I noticed she didn't have any purple headbands in her collection so I whipped one up to go with this cute dress. I first saw this method for making fabric flowers several years ago at
Blue Cricket Design
, I love it and it's the only thing I've ever used these cookie cutters for…haha!
I picked out these three sizes, the second smallest and the next two up.
Cut out 4 of each size
Then take the flowers and fold them in half, I didn't line up the edges.
Then fold in half again and put a dot of glue inside to hold it closed.
Glue them down to another piece of felt.
Fold the next sizes the same way, glue on top, and lay it over the fold of the previous layer.
Continue with the third layer.
Attach to some elastic and glue some felt underneath.
I think she likes it
- what she doesn't like is getting teeth. They just hit her this week and my sweet little girl is not a happy camper.
Inspire Me Please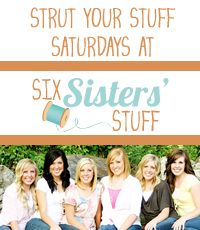 Saturday
Sunday