So you're gearing up for a big event, a vacation, the birth of a baby, or a house full of guests. You know that cleaning isn't going to happen, but you want to prepare yourself beforehand, how do you do it?
Well I'm going to share some tips and tricks I've come up with from recent experience. About 7 months ago, we welcomed our 3rd beautiful and happy baby to our family. I knew the routine of little sleep, lots of feedings, and two other kids to continue to feed and take care of wouldn't allow for a whole lot of housework. I did a bunch of deep cleaning ahead of time and even made some freezer meals. It all saved my sanity!
So here are some tips to help you get ahead and prepare for your big event!
Pick what matters most:
What are the most important things for you to have cleaned up before this event? Whenever I am preparing to have a baby, dusting and carpets are my things. If I can get the whole house dusted, vacuumed, and the carpets shampooed I am a happy camper. I know it's a lot but having clean air and floors are important to me. Seems like that's what will impact the baby the most.
Anyway, pick what your thing is. Do you want clean dishes and counters for lots of guests? Do you need to get laundry done before a long vacation to make sure you're coming home to at least a few clean outfits? :) Figure out what you want done the most and get it done!
Keep Up with the Day to Day:
Don't forget to do you're regular chores in addition to getting ahead. Here's my regular schedule. When I try to get ahead, I'll do my regular chores and add in an item of deep cleaning or get ahead.
S
et a time frame:
When do you want the cleaning done by? Figure out how long you have to get your list done and plan it out day by day.
With this I would also say to think about when you can do the items on your list. Laundry, dusting, dishes, and more can be done at night while the kids are sleeping, if that's your situation. But other things like vacuuming can't be done at night so you'll want to prioritize those to the day.
Set a timer:
If you're pressed for time, try this trick. Give yourself a specific amount of time, 15 minutes or more, and literally set a timer. Accomplish as much as you can in that time period, don't get distracted by the phone, facebook, or other things. Then get back to the kids or other pressing matters. If I don't have any distractions I can usually get 2 bathrooms cleaned or a couple rooms vacuumed.
Put away non-essentials:
Grab an extra box or bin and put away any extra toys, papers, clutter, or other mess. Go through these things. If it's truly non-essential donate or sell it. If it has a proper place, put it away. If it's something extra you'd like to hold on to like toys, pack it up to prevent future mess during your down time. I picked up a ton of toys and put them away before having our baby. I knew I wouldn't have the energy or time to pick up toys. Putting away the non-essentials and stream lining your living space can really help reduce stress with visitors over or prevent mess while you're down with a baby.
Go over the game plan: If you're the one who takes care of the majority of the housework, go over the game plan with your spouse. This is especially important if you're having a baby or going on vacation without them. Make sure they know where things are like cleaning supplies or where things belong like dishes or pots and pans. This way you won't fall behind or get stuck wondering where something was put away.
Also if you have any detailed cleaning routines, be sure to go over those. For example, we cloth diaper and while I use a detergent that doubles for regular laundry and is cloth diaper safe, if too much is used it could still cause stink. So I made sure to go over the cloth diaper routine with my husband so he could help when he noticed the bin getting too full.
Be Realistic and get help:
My last tip is to be realistic. If you're 39 weeks pregnant, don't expect to clean the entire house top to bottom, clean the gutters, and touch up the nursery paint with other kids running around. It's not worth the stress, no matter the reason you want to prepare. Also ask for help with the crucial aspects of your preparation. Ask your spouse to do difficult tasks or ask friends to watch your kids or help (or put the kids to work :) )
(my friend's little girl, helping clean the church after an activity)
I had an experience once when I saw a pregnant friend in need. I went to her house, without being asked, ready to clean for her so she could take a nap or just relax. Well, she turned me away, wouldn't let me help and it hurt, a lot! Don't be afraid to ask for help because there is most likely someone who is more than willing to help, but maybe they are afraid to offer or have been turned down before like I was.
Bonus:
If you have a delay start option on your washing machine, take advantage of that. I recently started doing that and it helps a ton on laundry days. I'll put a load of laundry in on Monday night as I'm heading to bed, set the timer to start early Tuesday morning and the load finishes by the time I'm usually downstairs feeding the boys so I can transfer to the dryer or start hanging it up. Try it out, let me know what how it goes!
What other tips help you prepare for those big events or times you know you won't be able to keep up with the housework?
Inspire Me Please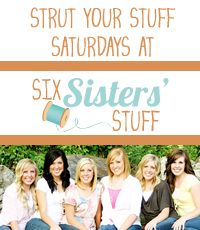 Saturday
Sunday