I'm excited to share this project with you and kind of ashamed at the same time. See I put this together for a group of ladies for 'craft club' in January and I'm just now posting about it…AND this isn't even my finished project – it's the one I made for my mom. See, when I put these craft clubs together and I teach them, I almost NEVER finish. They just exhaust me. But here's how I made my mom's birthday board. :)
Here's what you'll need:
-1"x6" board cut down to 18". This was just the size that looked the best to me. 24" just looked a little to long and anything narrower/wider wasn't quite right to me, so that's just what I did.
-paint and paint brush
-1.5" wood circles
-12 cup hooks
-8mm jump rings
-picture hangers
-permanent marker
-pliers
-drill
-something for your words: stencil, vinyl, wood words, etc
Paint the board. I chose to leave the paint light enough that the wood grain showed through.
Once the paint is dry, I used a stencil to trace the word family on and then painted it in. Then applied the 'birthday' and letters for the months on in vinyl that my neighbor cut. If you don't have a vinyl cutter I saw TONS of options on etsy.
Depending on the circles that you find you will probably need to drill holes in each side of your circle. I did find some on ebay that were predrilled, but more expensive.
You can find a pack of 100
HERE
on Amazon that are pretty similar to mine. I had to order a TON so I went straight to the wholesaler. However, there is a minimum order from them so unless you're doing a ton of these I recommend Amazon or Michaels, although the one's I've seen at Michael's aren't as solid.
Anyway, drill two holes with a 1/16" drill bit.
Use pliers to open a jump ring and through the holes and use the pliers to close the jump ring. Repeat as you need.
Back on your board. I actually measured the spacing before applying the letters for the months. Sorry if that's confusing.
Anyway at the marks, screw in the cup hooks. I turned these ones backwards so they weren't easily taken off by little hands.
Attach the picture hangers to the back and hang.
Then just finish it off by writing the person's name and day of their birthday on each circle and hanging that circle under the month of their birth.
So there you have it – the project that took me 2 months to post about and I haven't even finished started one for myself, haha.
I do intend on making mine because I love being able to look at the year and seeing where people's birthdays fall and when to be ready. I am trying to be more organized this year and I feel like this would help.
How do you keep track of family birthdays?
Inspire Me Please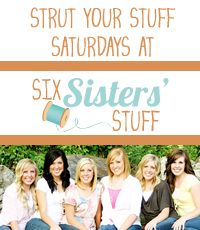 Saturday
Sunday